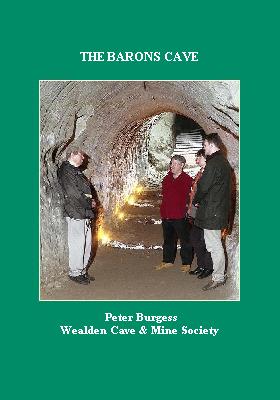 Barons' Cave Guide Book
This excellent publication has been researched and written by Peter Burgess, illustrated with pictures by Nick Catford and reviewed by Paul Sowan, between them the experts in their fields.
The book has 36 glossy pages with numerous illustrations and a plan of the system as it is today. The content is factual although it does also discuss the various legends and tall-stories surrounding this medieval cave. A great book for anyone interested in this quirky piece of Reigate history.
The book is available from the WCMS desk in Tunnel Road on the cave open days for £2.50.
---
Underground Reigate
This is a fascinating account of some of Reigate's hidden secrets. Sand mines, wartime shelters, a cold-war bunker and a medieval undercroft all lie beneath us, in and around the town of Reigate.
Malcolm has spent nearly 40 years studying and exploring the underground features of Surrey. The caves of Reigate drew his attention in the 1970s, and despite various closures and stabilisation projects, much remains to be seen today.
The book is softback, 9″ x 6″, 52 pages, with 11 B&W photographs and contains the following chapters:
Introduction
The Origins of Reigate
The Sands of Reigate
Reigate's Road Tunnel
Reigate's Cold War Bunker
Monty's Hideout
London Road Caves
Barons' Cave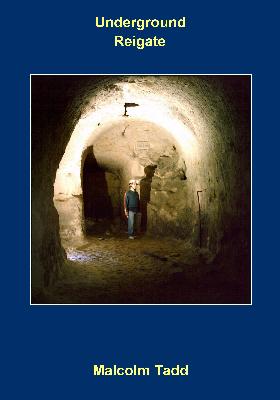 Tunnel Road
West Side Caves
Tunnel Road
East Side Caves
Other Underground places in Reigate
Reigate's Medieval undercroft
The book is available from the WCMS desk in Tunnel Road on the cave open days for £6.00.
---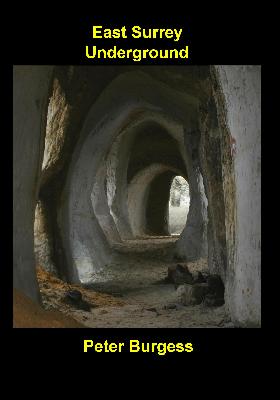 East Surrey Underground
Concentrated into a small area of South East England in East Surrey, there exists a great variety of underground features. Some are natural, but most are man-made. There are mines for building stone like firestone and hearthstone as well as sand, fullers earth and chalk. Wartime tunnels, cellars, and underground follies add to the variety. The swallow holes of the River Mole are also covered.
This book describes these fascinating sites, and explains how they were created, how they have since been used for other purposes, and why they are still important places that should not be forgotten and neglected.


The book contains the following chapters:
Safety
Introduction
Sand Cave and Mines
Firestone Quarries
Hearthstone Mines
Mushroom Farms
At Times of War
Deneholes
Fullers Earth Mines
That Sinking Feeling
The River Mole
Early Explorers
Rumours and Myths
Conservation
The book is softback 9″ x 6″, 121 pages, well illustrated with photographs (B+W) and location maps.
The book is available from the WCMS desk in Tunnel Road on the cave open days for £8.00.
---